Call: (646) 716-5812 – "Facebook LIVE" – Live stream: BlogTalkRadio (Entire USA) Radio Show Date: August 3rd, 2020
LIKE our Facebook page, SUBSCRIBE to our YouTube channel and Become a Patron. COVID
---
Ed Wynn uses his new book "We The People" to discuss communication skills & sensible solutions. Trump's Secretary thinks you make too much, & more.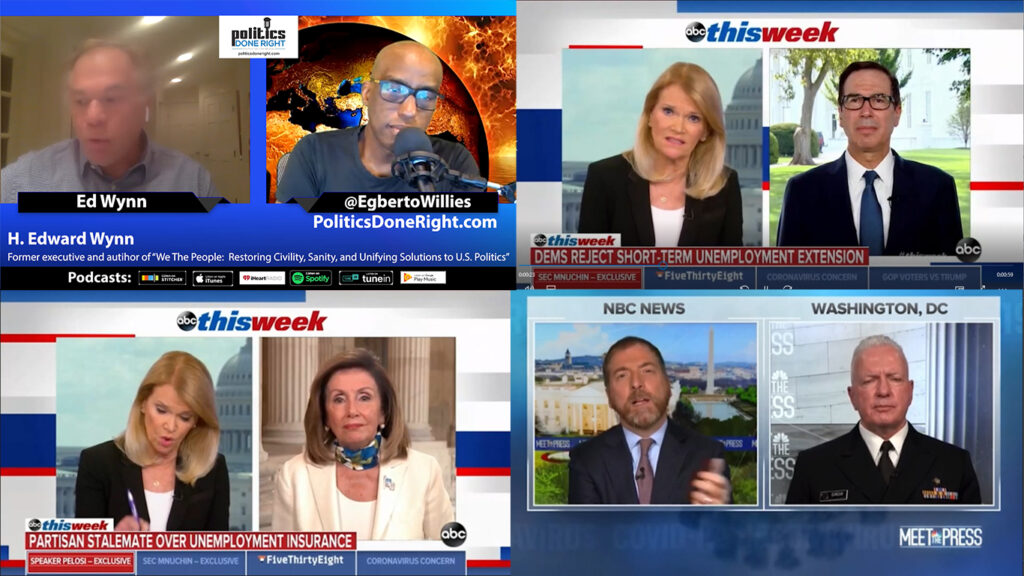 Former executive and author Ed Wynn wants to do his part to move our national dialogue forward.
Ed Wynn made it clear that solutions are not all that difficult at all if one is logical. The problem is that logic is not in the best interest of some.
Trump's Treasury thinks you are paid too much. $600 is simply too much money for you.
Ed Wynn frames the discourse well.
---
We need Medicare for All
I want your stories. Have you had issues with your healthcare coverage? Have you had billing issues? Did you feel like your insurance company was trying to pull one over on you? I am interested in every story you have with regards to healthcare. Drop me a line at info[@]politicsdoneright.com. Let's make Medicare For All a reality.
---
If you like what we do please do the following!
Most Independent Progressive outlets continue to struggle to raise the funds they need to operate much like the smaller outlets like Politics Done Right
SUBSCRIBE to our YouTube Channel here.
LIKE our Facebook Page here.
Share our blogs, podcasts, and videos.
Become a Politics Done Right Subscriber via Patreon here.
Become a Politics Done Right Subscriber via Facebook here.
Consider providing a contribution here.
Please consider supporting our GoFundMe equipment fund here.
---
---
Trump's Millionaire Treasury Secretary Uses Debunked GOP Talking Point to Justify Slashing $600 Unemployment Boost
"Inflicting suffering on tens of millions of Americans by cutting unemployment benefits because of an anecdotal 'some cases' argument that has been refuted again and again is a stupid way to make policy."
Treasury Secretary Steve Mnuchin on Sunday recycled a debunked right-wing talking point to justify the GOP's proposal to cut by more than half the $600-per-week federal boost in unemployment benefits that expired at the end of last week, depriving around 30 million Americans of a key economic lifeline as joblessness remains at historic levels.
In an appearance on ABC's "This Week," Mnuchin claimed "there's no question" that the $600 weekly boost in unemployment insurance (UI) created a disincentive to work.
When host Martha Raddatz pointed to a recent Yale study that found "no evidence that more generous benefits disincentivized work," Mnuchin responded, "I went to Yale, I agree on certain things, I don't always agree."
[More]
Read My Current Blog Posts