---
Call: (646) 716-5812 – Facebook Live: PDRLive Live stream: BlogTalkRadio Radio Show Date: August  29th, 2018
The supposedly Liberal media continues to discount Progressive wins. They do so at their peril and credibility. Even Establishment candidates who won are adopting Progressive positions.
You can also find previous episodes on YouTube here
---
Support Politics Done Right: Become a Patron now (http://patreon.com/politicsdoneright).
The supposedly Liberal Mainstream Media can continue to ignore the Progressive move. We know why they are doing it. They are owned by their advertisers and do not dear tell Americans that people are wising up to what really ails the country and the solutions that must be put in place.
The Florida Democratic Primary was probative. The Mayor of Tallahassee, Andrew Gillum beat the Establishment Candidate Gwen Graham. The polls did not see it. The media did not see it. And you know why? Because they were fooling themselves with their false narrative.
From the Newsfeed
EgbertoWillies.com: Here we go again. There was a major upset in Florida last night. The Democratic Establishment candidate Gwen Graham lost to the Bernie-Sanders-endorsed-candidate, Tallahassee Mayor Andrew Gillum, a black man. His Republican opponent, in a Trump Effect fashion, gave a Trumpian response to a Fox News interviewer. "Ron DeSantis, the Republican nominee for governor in Florida, faced a backlash on Wednesday for saying in a television interview that his state should not "monkey this up" by electing his Democratic rival Andrew Gillum, who is African-American. DeSantis made the comment in an interview on Fox News when speaking about progressive Tallahassee Mayor Andrew Gillum, who won in an upset on Tuesday night." There should be no surprise here as the Trump Effect has removed all the inhibitions from Donald Trump's followers. Saddle up, it only gets worse from here.
---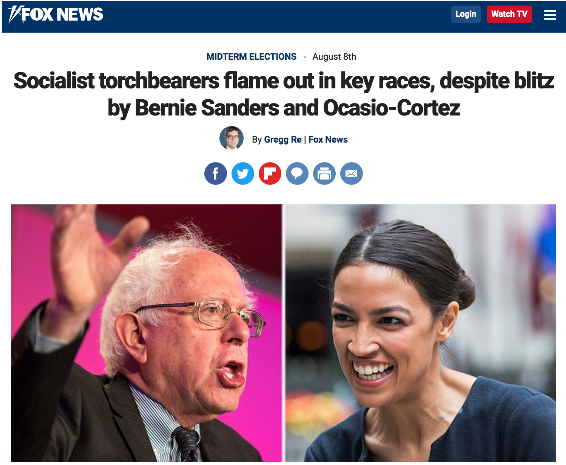 Please LIKE our Facebook page and SUBSCRIBE to our YouTube channel
---
Read My Current Blog Posts
---
---