Activist & Author Harvey Wasserman thinks it is essential to rebalance the Supreme Court as it has become an ideological fraud.
Harvey Wasserman on rebalancing Supreme Court
Harvey Wasserman did not disappoint. We discussed the recent Supreme Court ruling overturning Roe v. Wade. Wasserman recently published an article in LA-Story titled "Our Original Founders Were Indigenous Women  Who Controlled Their Own Bodies, Lives," shortly before the Supreme Court overturned Roe v. Wade.
    On the cusp of Roe vs. Wade, Let's Hear from Our First-Born American, the Strong, Independent Native American  Women.

     The real Founders of American society were not the 55 rich white male interlopers who staged a coup d'etat in 1787-9 … and whose misogynist progeny have always wanted to ban abortion.

    Our true Original Founders were the Indigenous matriarchs who ran most of America for thousands of years before the first whites set foot here.

For tens of centuries, they controlled their pregnancies by herbal means. The idea that any government (tribal or otherwise) could rule a woman's uterus would evoke disbelief and contempt from men and
women alike.

In fact, most North American tribes were run by women. The chieftains were commonly male. But they were chosen and could be removed at will by the matriarchs, who ran the homes and gardens,
raised the children and made the major decisions about the future of the tribe.

As one Indigenous matriarch has explained, the men were allowed to be chiefs because "it makes them feel important and it gives them something to do."

There were indeed tribes where men dominated. For many white "Christian" historians, the idea that females ran any society remains impossible to comprehend.

The US Congress denied our First Peoples the right to vote until 1924. In a 1980s hearing on banning peyote, Chief Justice William Rehnquist was heard to say that the First Amendment "does not apply to Native Americans."

   No Indigenous Justice now sits on a Supreme Court hell-bent to colonize the female uterus.
In the interview, Harvey makes it clear that it is time to rebalance the Supreme Court. One hopes that election 2022 will bring us brave politicians who want us to remain a Democracy.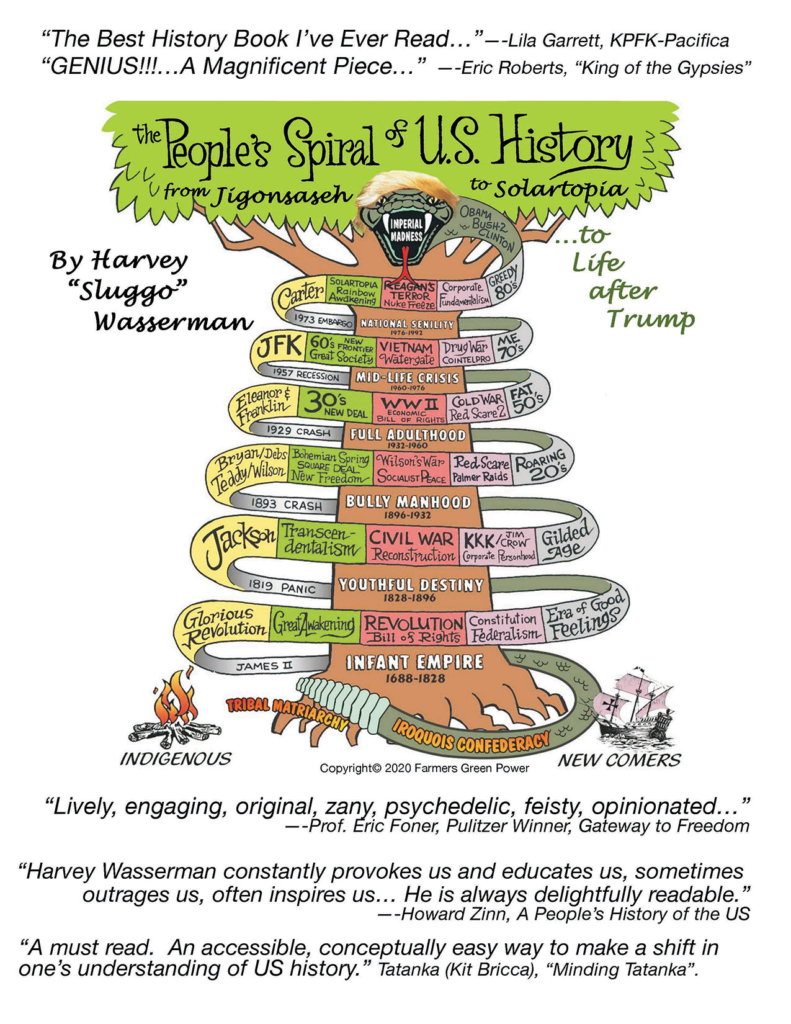 Don't forget to check out Harvey's new book "The People's Spiral of US History." It tells America's organic story in six thrilling cycles — from our Indigenous Mother to the imperial Trumpocalyps — and beyond.  Fast, fun, and full of fury, this passionate pageant pulls no punches.  You've NEVER read a history book like this one. Harvey "Sluggo" Wasserman began this telling in 1970, hoping to bend the arc of history toward peace, love & understanding — plus justice, No Nukes, Solartopia, election protection, psychedelic exploration, people's history, nonviolent action — and our vital leap to green sustainability.
Please read the entire article and watch/listen to the interview.