Houston/National Activist Neil Aquino visits with us to discuss an event enlightening Texans about President Biden's Build Back Better policies.
Neil Aquino on Build Back Better event
Neil Aquino came to let us know about an event that should be occurring throughout the country. That is the only way one can dispel the misinformation about Build Back Better.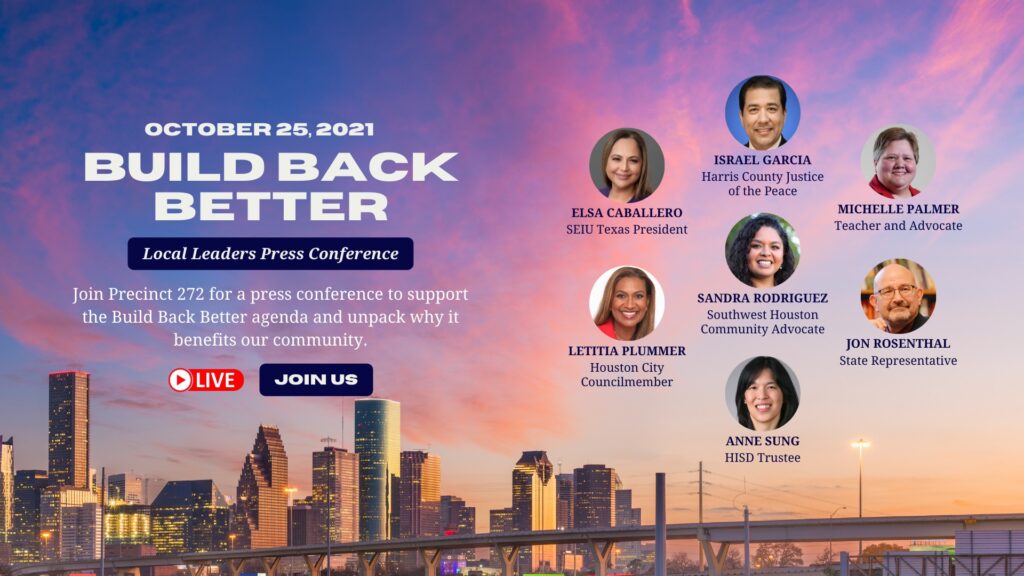 Local leaders in the Houston Texas area support the plan to Build Back Better. Join Precinct 272 for a press conference to support the policy and unpack why it will benefit our community.
Participants:
Houston City Councilmember Letitia Plummer
Teacher and Advocate Michelle Palmer
Harris County Justice of the Peace Israel Garcia
Southwest Houston Community Advocate Sandra Rodriguez
HISD Trustee Anne Sung
SEIU Texas President Elsa Caballero
Representative Jon Rosenthal
Build Back Better policies would bring much-needed infrastructure to prevent disasters such as flooding; infrastructure of the future such as broadband access and the expansion of renewable energy; and extensive investment in working families through housing, universal Pre-K, and two-year community college.
Tune in to learn more about how this legislation will benefit Houston, particularly the west and southwest Houston neighborhoods.
BuildBackBetter
MEDIA CONTACT
Daniel J. Cohen
[email protected]
832-489-7643
Event: https://www.facebook.com/events/244005907706298/
Please listen to the entire interview.