Call: (646) 716-5812 – "Facebook LIVE" – Live stream: BlogTalkRadio (Entire USA) Radio Show Date: July 16th, 2020
LIKE our Facebook page, SUBSCRIBE to our YouTube channel and Become a Patron. COVID
---
The Lincoln Project is intent on destroying the Trump Republican Party. The accelerated destruction of the middle-class will continue exponentially in 14 days as cash strapped Americans lose stimulus support. Guess who did well.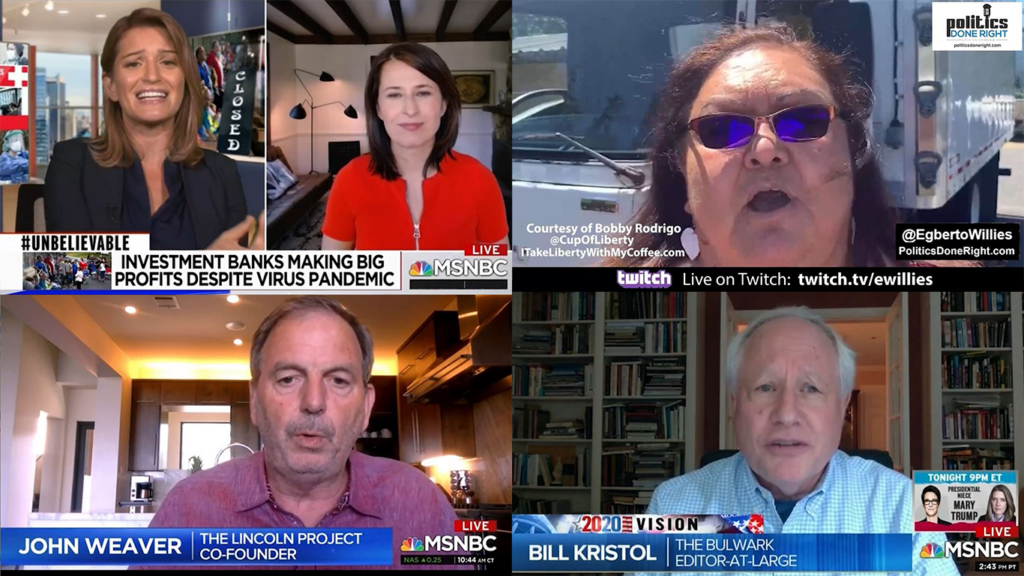 The Republican Party is being hunted not for termination but for re-indoctrination.
It is clear that The Lincoln Project, as well as Bill Kristol, is ensuring that the Republican Party, Trump, and his sycophants are no more. Their endeavor is likely to be very successful.
The Republican Party is toast
---
We need Medicare for All
I want your stories. Have you had issues with your healthcare coverage? Have you had billing issues? Did you feel like your insurance company was trying to pull one over on you? I am interested in every story you have with regards to healthcare. Drop me a line at info[@]politicsdoneright.com. Let's make Medicare For All a reality.
---
If you like what we do please do the following!
Most Independent Progressive outlets continue to struggle to raise the funds they need to operate much like the smaller outlets like Politics Done Right
SUBSCRIBE to our YouTube Channel here.
LIKE our Facebook Page here.
Share our blogs, podcasts, and videos.
Become a Politics Done Right Subscriber via Patreon here.
Become a Politics Done Right Subscriber via Facebook here.
Consider providing a contribution here.
Please consider supporting our GoFundMe equipment fund here.
---
---
Republican congressman who used UPS Store address on voter registration is charged with 3 felonies
"Republicans always talk about voter fraud because they know its the only way for them to win."
A member of the U.S. House of Representatives has been indicted on four charges related to an investigation into illegal voting. Topeka, Kansas authorities announced Tuesday that Rep. Steve Watkins, a Republican, faces four charges in all, including one misdemeanor, tied to the investigation, which stems from Watkins' registering to vote in 2019 with a false address, then attempting to rectify it with another useless address when he was caught. 
[More]
Read My Current Blog Posts