Call: (646) 716-5812 – "Facebook LIVE" – Live stream: BlogTalkRadio (Entire USA) Radio Show Date: May 22nd, 2020
LIKE our Facebook page, SUBSCRIBE to our YouTube channel and Become a Patron. COVID
---
Journalist and Environmental activist Harvey Wasserman makes it clear, economic collapse & COVID-19 pandemic is on Trump. Unfettered Capitalism?
We must stop dancing around the fact that the COVID-19 pandemic did not have to cause this new great depression.
A lack of leadership and an economic system that rewards it is to be blamed. And those that benefit the most from it, the parasites of our society who as well are the beneficiaries of most of the spoils are to blame. And as Harvey Wasserman eloquently articulates, Donald Trump is the tool, the puppet that not only got tens of thousands killed but tens of thousands more to come.
Notes:
The COVID-19 pandemic will not burn out any time soon given the lacking of leadership.
---
We need Medicare for All
I want your stories. Have you had issues with your healthcare coverage? Have you had billing issues? Did you feel like your insurance company was trying to pull one over on you? I am interested in every story you have with regards to healthcare. Drop me a line at info[@]politicsdoneright.com. Let's make Medicare For All a reality.
---
If you like what we do please do the following!
Most Independent Progressive outlets continue to struggle to raise the funds they need to operate much like the smaller outlets like Politics Done Right
SUBSCRIBE to our YouTube Channel here.
LIKE our Facebook Page here.
Share our blogs, podcasts, and videos.
Become a Politics Done Right Subscriber here.
Please consider supporting our GoFundMe equipment fund here.
Or consider providing a contribution here.
---
---
Underscoring 'Grotesque Nature of Unequal Sacrifice,' Richest Americans Have Added $434 Billion in Wealth Since Pandemic Hit
"While millions risk their lives and livelihoods as first responders and frontline workers, these billionaires benefit from an economy and tax system that is wired to funnel wealth to the top."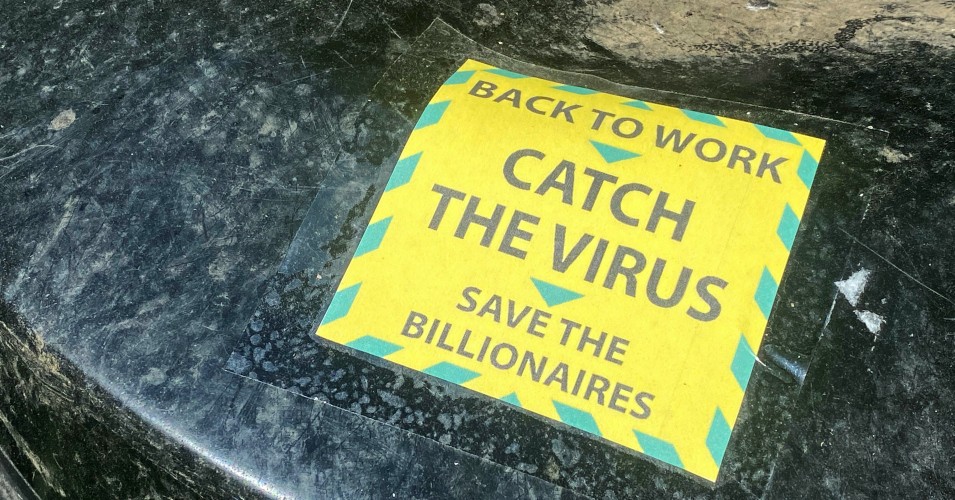 America's billionaires saw their combined net worth soar by $434 billion between March 18 and May 19 while the coronavirus pandemic killed tens of thousands of people and ravaged the U.S. economy, forcing more than 30 million out of work.
That's according to a new analysis released Thursday by Americans for Tax Fairness (ATF) and the Institute for Policy Studies (IPS) titled "Tale of Two Crises: Billionaires Gain as Workers Feel Pandemic Pain."
The report shows that the five wealthiest billionaires in the U.S.—Jeff Bezos of Amazon, Bill Gates of Microsoft, Mark Zuckerberg of Facebook, Warren Buffett of Berkshire Hathaway, and Larry Ellison of Oracle—saw their collective wealth grow by a total of $75.5 billion between March 18 and May 19, a 19% jump.
ATF and IPS pinpoint March 18 as "the rough start date of the pandemic shutdown, when most federal and state economic restrictions were in place."
Bezos—the world's richest man—saw his wealth jump by nearly $35 billion in the two-month period. Yet even as Bezos' fortune continues to grow, Amazon announced last week that it will not extend $2-an-hour hazard pay for warehouse workers beyond the end of May.
"The pandemic has revealed the deadly consequences of America's yawning wealth gap, and billionaires are the glaring symbol of that economic inequality," Frank Clemente, ATF's executive director, said in a statement.
⏰It's that time again:⏰ Our weekly @inequalityorg update on how much U.S. billionaires are profiting off the same pandemic that's forcing millions out of work.

There's been some shocking numbers so far.

But this week is a knockout. pic.twitter.com/pWW79IZMOo

— Institute for Policy Studies (@IPS_DC) May 21, 2020
Chuck Collins, director of the IPS Program on Inequality, said "the surge in billionaire wealth during a global pandemic underscores the grotesque nature of unequal sacrifice."
"While millions risk their lives and livelihoods as first responders and front line workers," said Collins, "these billionaires benefit from an economy and tax system that is wired to funnel wealth to the top."
[More]
Read My Current Blog Posts