Call: (646) 716-5812 – "Facebook LIVE" – Live stream: BlogTalkRadio (Entire USA) Radio Show Date: April 21st, 2020
LIKE our Facebook page, SUBSCRIBE to our YouTube channel and Become a Patron.
---
Right-Wing Tea Party like micro-protests are erupting. Dr. Emma Long discusses how history, COVID-19, freedom, & American History applies.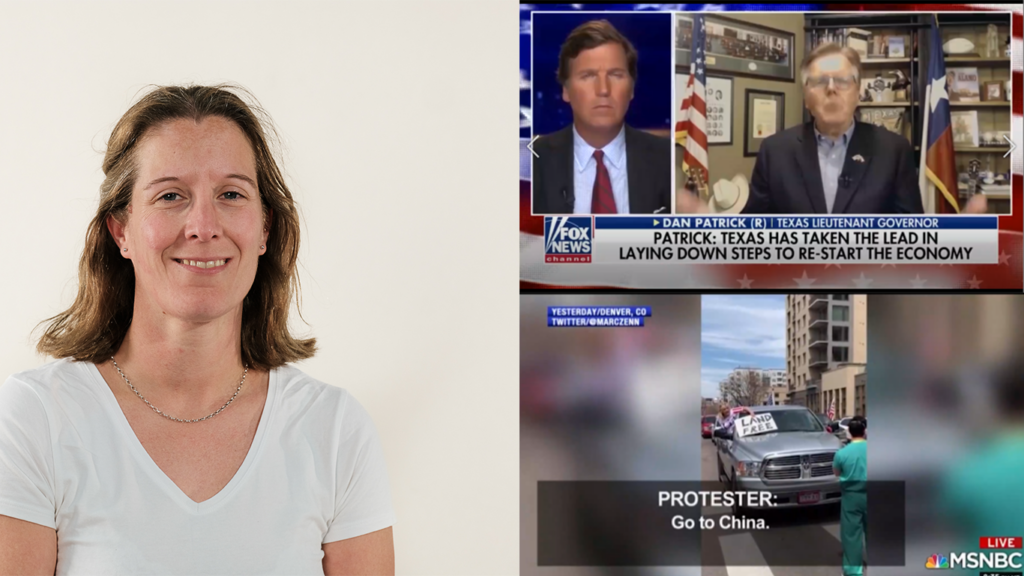 Is the Right-Wing Tea Party history repeating itself?
We will get an amplified movement not commensurate with its true size. In the age of Donald Trump, it may seem so. It seems however that the mainstream media may not be falling for the con. Yesterday we showed how MSNBC host Katy Tur handled it. Today it's Lawrence O'Donnell.
In the second part of our program, Dr. Emma Long discusses these issues and more with us. Who is Dr. Emma Long?
Emma Long joined American Studies at UEA in January 2013 having taken her undergraduate degree (American Studies) and Ph.D. (History) at the University of Kent. Emma was first attracted to American Studies as a subject by the idea of a year abroad and has since found many, many reasons to stay. Emma has fond memories of her year at the University of Wisconsin-Milwaukee and can't quite believe it was as long ago as it was!

Emma teaches courses on the American Revolution, the history of the Supreme Court, and the history of the Bill of Rights (see under 'Teaching'). In the past, Emma has taught courses on nineteenth and twentieth-century African-American history, the American South in the nineteenth century, 1960s America, the Cold War, the history of the US from the Revolution to the present day, and contemporary US government and politics.

Emma is a founding member of the Scholars of Religion in American Life Research Network. Please get in touch if you would like more information or if you would like to become a member.
Notes:
History is probative
---
We need Medicare for All
I want your stories. Have you had issues with your healthcare coverage? Have you had billing issues? Did you feel like your insurance company was trying to pull one over on you? I am interested in every story you have with regards to healthcare. Drop me a line at info[@]politicsdoneright.com. Let's make Medicare For All a reality.
---
If you like what we do please do the following!
Most Independent Progressive outlets continue to struggle to raise the funds they need to operate much like the smaller outlets like Politics Done Right
---
---
Support Progressive Independent Media
Most Independent Progressive outlets continue to struggle to raise the funds they need to operate much like the smaller outlets like Politics Done Right. Please subscribe even at the $1.99 or $4.99 level. Please consider supporting our GoFundMe here.
---
Wisconsin sees at least seven cases of COVID-19 as a result of in-person voting amid pandemic
"Voters wait in line at a polling place at Riverside University High School on April 7, 2020, in Milwaukee, Wisconsin."
As the novel coronavirus continues to spread, events nationwide are being canceled, but not without protest. States across the country have postponed elections in efforts to curb the spread of the pandemic. Despite health concerns and an executive order by the governor to postpone elections, Wisconsin Republicans refused to postpone races for state and local office in addition to the presidential primary. Insisting the election go on, Republicans in the state fought the order with the support of the U.S. Supreme Court resulting in a forced election on April 7. Of course, their actions didn't end without dire consequences; health officials have linked at least seven cases of COVID-19 to state election activities, Milwaukee Health Commissioner Jeanette Kowalik said Monday.
According to Kowalik six of the cases involve Milwaukee voters and one is a Milwaukee poll worker, The Milwaukee Journal Sentinel reported. Officials are investigating further into the cases to inquire additional information including whether the virus was concentrated in any of the city's five polling places and if any of the cases resulted in death. As Daily Kos previously noted, election officials were operating only five in-person voting centers for a city of 600,000 people.
[More]
Read My Current Blog Posts