---
Call: (646) 716-5812 – "Facebook LIVE" – Live stream: BlogTalkRadio (Entire USA) Radio Show Date: August 19th, 2019
Much of how we are governed would be considered fraud if we were being objective. Unfortunately, we can only make the necessary change if we are aware.
You can also find previous episodes on YouTube here
We have a full show and the key phrase is "fraud" on Americans.
Today we cover several topics but they all coalesce into one thing, — our system is based many times on some type of fraud. This is true in the criminal justice and policing system, healthcare, governance, media, and more.
It is important that we get serious about informing Americans so that these cons are not manifested as truths or realities one cannot run from.
We interview Aaron Fowles, Director of Ranked Choice Tennessee and Rob Kall, Publisher of OpEdNews.com.
Independent Progressive media need support from Progressives
Free Speech TV, Pacifica Network, and most Independent Progressive outlets are way behind in raising the funds they need to operate much like the smaller outlets like Politics Done Right. We will discuss why and solutions. That said, please support our GoFundMe here.
Topics:
DailyKos: Trump's racism could drive decent people to the polls

In 2016, Donald Trump engaged the racists. Among the most politically engaged groups that year, a Reuters analysis shows, was "Americans with strong anti-black opinions." That's not the case looking ahead to 2020. In fact, it's looking to be reversed, with anti-racist motivation emerging as a controlling factor.

Polling by Reuters/Ipsos last month showed that adults who reject racial stereotypes against blacks and Latinx are more interested in voting than the racists. "This year's poll found that among Americans who feel that blacks and whites are equal, or that blacks are superior to whites, 82% expressed a strong interest in voting in 2020," compared to 75% of racists. "There is some indication that racial liberals are more energized than the racially intolerant," said University of Michigan political scientist Vincent Hutchings, responding to the findings. "That would seem to be good news for the Democrats and bad news for the Republicans."

The survey also shows the folly of centrist Democrats who think that they need to be focusing on winning over Trump voters. His support hasn't just solidified because of his racist border war, it's increased. On his key issue of building the border wall, "[s]ome 82% now support it compared to 75% last year." Trump voters are not going to be won.

However, non-voters, including white Americans and whites without a college degree, could be. The analysis found that all Americans, including white ones, "were less likely to express feelings of racial anxiety this year, and they were more likely to empathize with African Americans." They were also significantly more supportive of immigration reform that provides a path to citizenship for undocumented immigrants—19% more supportive—while also less supportive by 4 points of stepped-up deportations.

The drop in racial anxiety isn't all great, since it had reached extremes while President Obama was in office, so the deplorables are less freaked out; "17% of whites and 26% of white Republicans said they strongly agree that 'white people are currently under attack in this country,' a drop of about 6 points and 8 points respectively from 2017." Those are not people who will be swayed to vote for anyone who is not Donald Trump.

But Trump's racism is motivating Democrats and some Independents, solidifying their opposition to him. Michael Tesler, a political scientist at the University of California, Irvine, said "They may not care that much about race initially, and then they see Trump pushing so hard on race. […] And so they push back."
Blog of the Week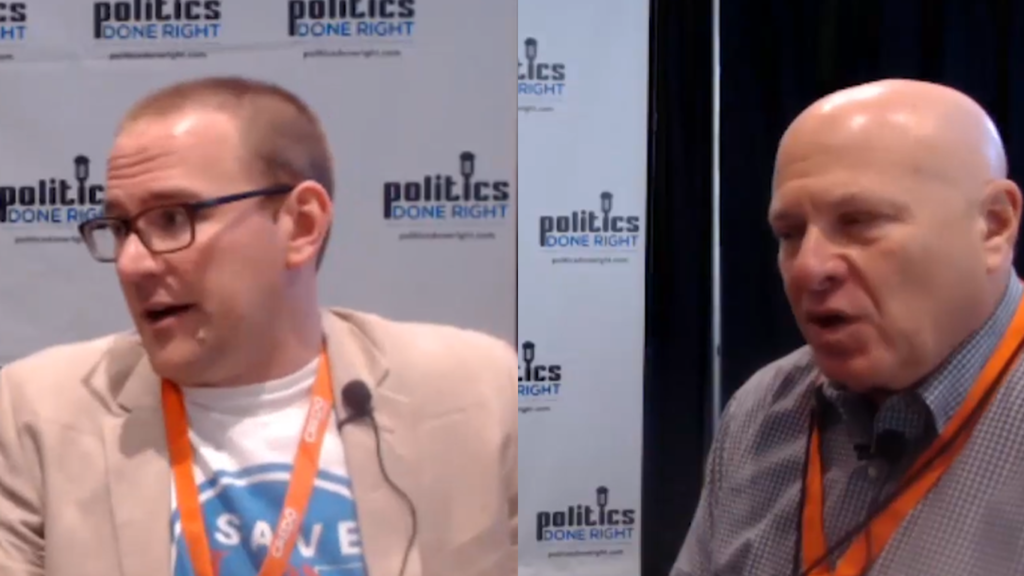 Please LIKE our Facebook page and SUBSCRIBE to our YouTube channel
Support Politics Done Right: Become a Patron.
Read My Current Blog Posts